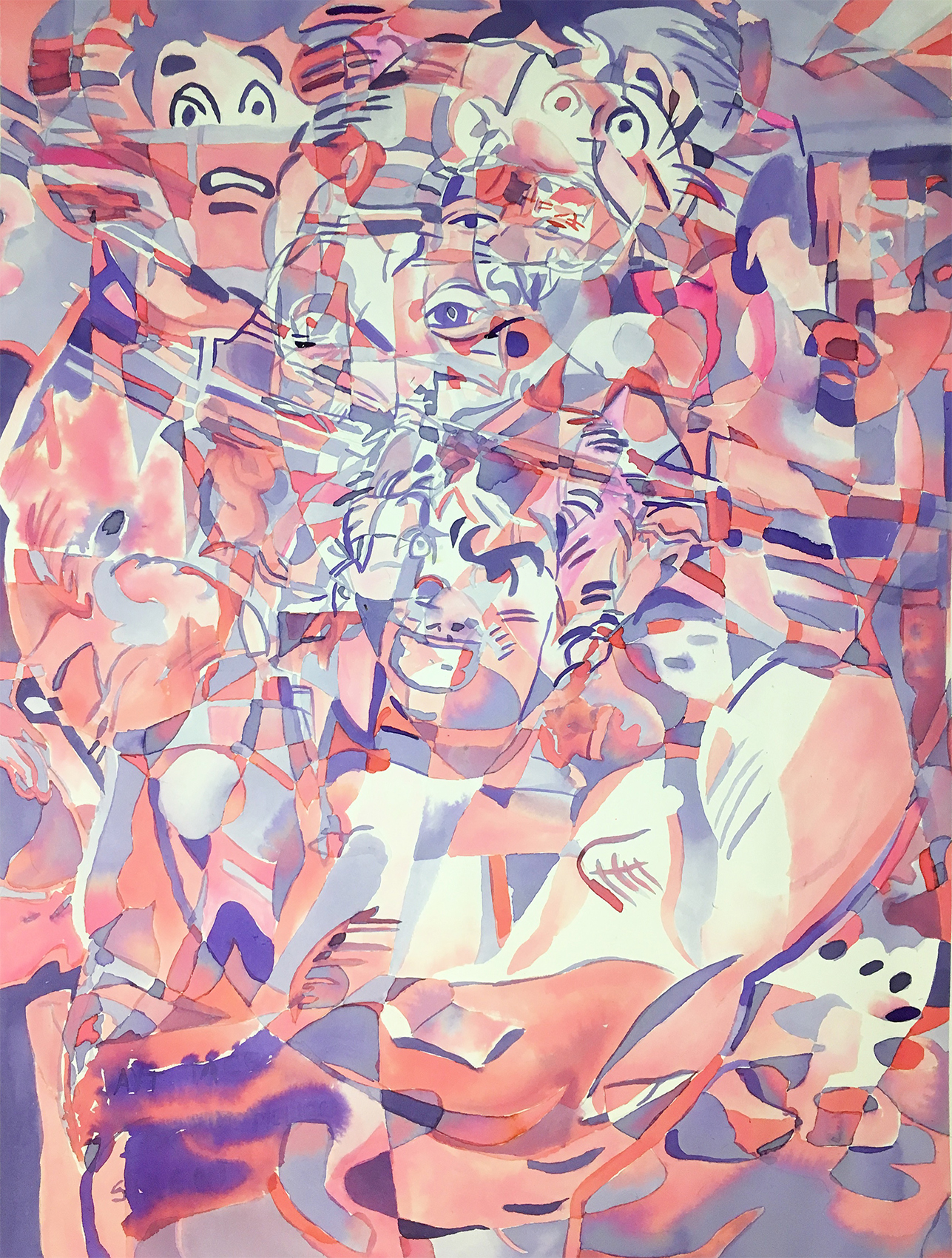 Tomas Del Balso b. 1983, North York, Visual Artist.
Tomas Del Balso's recent watercolour works on paper are dreamy, irreverent and colourful. He creates an emotional reality rather than render an optical reality; superimposed imagery of figures, archetypes, moody landscapes reveal a bond between artist and subconscious. Tomas suggests that Automatic drawing, or drawing without any plan, or "doodling" can lead to inadvertently tell-the-truth. For him, drawing is the key to unlock multiple mediums, and the studio is the place to create new work and engage with mediums, such as watercolours on paper and Screen printing on textiles. An alumni of OCADU's Visual Arts B.F.A. program and obtaining a major in Drawing and Painting, he has expertise with multiple fine art mediums, from painting to printing. To see his most recent artwork follow him on Instagram @tdelbalso.
Moving to the County a few years ago, Tomas has been settling in with his partner in Cherry Valley while building studios and gardens. He can be emailed at artlegitimate@gmail.com.
Tomas has exhibited in Canada and abroad, notably exhibiting his print works with Katherine Mulherine's No Foundation Gallery in Toronto. He has created murals for Toronto's Sketch Street Art Program and has contributed to Brooklyn New York's underground music venue Death By Audio (no longer extant). He has also created artwork for  NBC's Warehouse 13 Season 2, and one of his murals is featured in the music video "Toes" by Lights. His full CV can be found on his website.
It is his love of music and musical ability that ties his notions of painting as a kind of performance, preferring a lyrical style to prevail visually. Tomas played guitars, drums, keyboards and vocals for DD/MM/YYYY (2003-11) and travelled across the U.S., Europe and Hong Kong. DD/MM/YYYY (pronounced Day Month Year) performed on MTV Live, CBC radio 3 and collaborated with Portishead's Jeff Barrow to produce a split 12″ record with his band BEAK. The band performed at more than 1000 shows over the course of its history and had a creative philosophy of DIY handmade artworks, albums and merchandise.
Exhibition Opening

Colour and dynamic form will revive spirits in Oeno Gallery's new group s...

Artist Feature

Andreas Krätschmer is a woodturner focused on locally sourced wood with so...

Concert

Currently on an international tour of his debut album, singer, songwriter J...